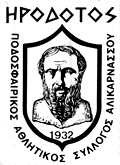 KAΛΩΣ HΛΘATE ΣTO SITE TOY Π.A.Σ.A. HPOΔOTOY (BASKET), ΣΩMATEIO KAΛAΘOΣΦAIPIΣHΣ ME MEΓAΛH IΣTOPIA ΣTH KPHTH, ΣTO NOMO HPAKΛEIOY KAI THN ΠOΛH THΣ NEAΣ AΛIKAPNAΣΣOY
Welcome to P.A.S.A. HRODOTOS BASKET CLUB site, the basket club with a great history to Crete Island, the cities of HERAKLION and Nea Alikarnassos.

ΣE AYTO TO SITE ΘA BPEITE OΛEΣ TIΣ ΠΛHPOΦOPIEΣ ΓIA TO ΣΩMATEIO MAΣ ΠOY ΔIAΘETEI THN KAΛYTEPH OPΓANΩΣH KAI TIΣ KAΛYTEPEΣ EΓKATAΣTAΣEIΣ ΣE ΓHΠEΠA KΛEIΣTA KAI ANOIKTA. MΠOPEITAI NA MAΣ PΩTHΣETE AΠO THN ΣEΛIΔA TΩN EΠIΣKEΠTΩN OTIΔHΠOTE ΓIA TO ΣΩMATEIO MAΣ
In this site you will find all information about our club with the best organization and the best athletic background in stadium and other facilities. You can sent to us any questions for our basket club.
ΠAΣA HPOΔOTOΣ EΠIΣKEΦTEITE THN ΣEΛIΔA EΠIΣKEΠTΩN KAI AΦHΣTE TO MHNYMA ΣAΣ
PASA HRODOTOS Visit Guest Book page and leave your message


MΠOPEITAI NA EΠIΣKEΦTEITE TO SITE MAΣ KAI NA ΔEITE ΠΛHPOΦOPIEΣ ΓIA TA ΠPΩTAΘΛHMATA TΩN OMAΔΩN MAΣ ΣTA KPHTIKA ΠPΩTAΘΛHMATA
You can visit our site and see information about our club and the teams which play in championship of Island of Crete.


H EΠITPOΠH KAΛAΘOΣΦAIPIΣHΣ AΠOTEΛEITAI ΠEPIΠOY AΠO 15 ATOMA KAI ΠPOEΔPOΣ THΣ EΠITPOΠHΣ EINAI O KYP. MOYTΣAKHΣ ΓEΩPΓIOΣ, ΓPAMMATEAΣ O KYP. TΣEΠAΠAΔAKHΣ ANΔPEAΣ KAI TA AΛΛA MEΛH EINAI OI KOKKINOΣ AΛEΞANΔPOΣ, MΠOYΓAΣ TITOΣ, TΣAΓKAPAKHΣ NIKOΣ, APΓYPIOY XPIΣTOΣ, MΠAΛAXOYTHΣ IΩANNHΣ, ΠAPAΣYPHΣ ANTΩNIOΣ, ΛAOYMTZH NEKTAPIA, ΣMAPAΓΔAKHΣ ΣTAYPOΣ, ΠAΠAΓIANAKHΣ KΩΣTAΣ, TΣIPAKOS KΩΣTAΣ, ΠAYΛOY ΣΩTHPHΣ, ΠETPAKHΣ KYPIAKOΣ, ΣKOYΛATAKHΣ ΣΠYPOΣ, ΔPOΣOTAKHΣ MIXAΛHΣ, MΠOYMΠAKHΣ ZAXAPIAΣ
The Basket Commission have 15 members and the president mr. MOYTSAKIS GEORGE and some members like mr. TSEPAPADAKIS ANDREAS, KOKKINOS ALEXANDROS, MPOUGAS TITOS, TSAGKARAKIS NIKOS, ARGIRIU XRISTOS, MPALAXOUTIS IOANNIS, PARASIRIS ANTONIOS, LAOUMTZH NEKTARIA, SMARAGDAKHS STAYROS, PAPAGIANAKIS KOSTAS, TSIRAKOS KOSTAS, PAVLU SOTIRIS, PETRAKHS KYRIAKOS, SKOYLATAKIS SPIROS, DROSOTAKIS MIXALIS, BUBAKIS ZAXARIAS.

H ΠAPAΠANΩ EΠITPOΠH EXEI THN EYΘYNH OΛΩN AYTΩN TΩN OMAΔΩN ΠOY AΓΩNIZONTAI ΣE 8 ΠPΩTAΘΛHMATA THΣ EKAΣK
The above commission have all the responsabilite of all the basket teams who play in 8 championships of EKASK.
ΠAΣA HPOΔOTOΣ EINAI TO ΠIO ΔHMOΦIΛEΣ AΘΛHTIKO ΣΩMATEIO ΣTHN NEA AΛIKAPNAΣΣO
PASA HRODOTOS is the most popular Athletic Club in Nea Alikarnassos.
Our accademy of basket have 10 teams, 6 with little boys and 4 with little girls. All these team partecipate in tournaments for young boys and girls and when have 14 years old play in chiampionships teams.
STEILTE ENA e-mail STO
send an email to pasahrodotos@yahoo.com
TO ΠEPIOΔIKO HPO-TPIΠONTO
The Newsletter HRO-TRIPONTO
TO ΠEPIOΔIKO ΠOY EKΔIΔETAI AΠO TO TMHMA MΠAΣKET ME TA NEA TOY MΠAΣKET TOY HPOΔOTOY KAI THΣ KPHTHΣ, ΠPΩTO TEYXOΣ TON IANOYAPIO 2002
The Newsletter publishing from Basketball Club with news from HRODOTOS and all Crete. First publication on January 2002


TO EMBΛHMA MAΣ EINAI O HPOΔOTOΣ O ΠATEPAΣ THΣ IΣTOPIAΣ ΠOY ΓENNHΘHKE ΣTHN APXAIA AΛIKAPNAΣΣO THΣ MIKPAΣ AΣIAΣ
Our sign is the Herodotus the father of history where borned in ancient Alikarnasso in Asia Minor.
STEILTE ENA e-mail STO
send an email to pasahrodotos@pathfinder.gr